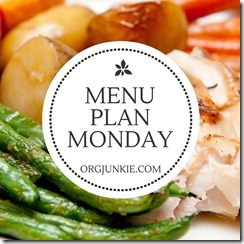 6/4/17-6/11/17
Sunday 18th – Grilled Chicken with Savory Summer Vegetable – Strawberry Salad with Greens and Feta Cheese – Steamed Sweet Potatoes with Butter (Tree House)
Monday, 19th – Salmon Oriental – Broccoli and Sweet Potato  (Tree House)
Tuesday, 20th  – (Mom out of Town) – Chicken Pot Pies
Wednesday, 21st – (Mom Out of Town) – Hot Dogs
Thursday, 22nd – (Mom Out of Town) – Simek's Lasagna
Friday, 23rd -  Grilled Hamburgers – Waffle Fries
Saturday, 24th – Leftovers
Sunday, 25th – Super Juicy Pork Chops – Crisp Green Salad – Simple Steamed Broccoli (Tree House)
Monday, 26th – Lemon-Herb Fish – Simple Springtime Salad with Raspberry Dressing – Baked Potatoes (Tree House)
Tuesday, 27th – Italian Skillet Frittata – Simple Roasted Asparagus (Tree House)
Wednesday, 28th – Broiled Tilapia Parmesan, House Salad, Grilled Pineapple (Tree House)
Thursday, 29th -  Leftovers
Friday, 30th -
Saturday, July 1st – Chicken Caesar Salad (Tree House)
BREAKFAST
Potato & Egg Burritos
Blueberry Muffins
LUNCH
Strawberry, Feta & Almond Salad : 
2 tsp Dijon mustard
1 tsp honey
¼ red onion, minced
2 Tbsp apple cider vinegar ⅓ cup olive oil salt & pepper
4 oz spinach ½ head iceberg lettuce, chopped
4 oz feta cheese, crumbled
1 quart strawberries, hulled— small berries halved, large ones quartered
1 cup almonds, chopped
1. In a small bowl, stir together the mustard, honey, onion and vinegar. Stir in the olive oil and season with salt and pepper. 2. Put the spinach & lettuce in a large bowl. Add the strawberries, feta and almonds.
Avocado Tuna Salad
For more Menu Planning inspiration stop by and visit Laura at Organizing Junkie and participate in Menu Plan Monday. 
Wishing you a wonderful week!!